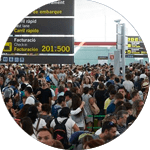 "Mach Helicopters saved us the end of our holidays that were affected by an air traffic controllers strike. Our flight was affected and canceled. Thanks to Mach Helicopters we were able to avoid major problems and we returned home on time. "
"I wanted to do something special as a family in the Balearic Islands for the celebration of my 40th birthday. I contacted Mach Helicopters who advised me and helped with the preparations. We did a couple of panoramic tours around Ibiza and Formentera and landed at the Atzaró hotel in Ibiza where we were staying. It was one of the best weekends of my life. "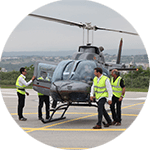 "I contacted Mach Helicopters through a friend to move several members of my company's steering committee to a factory we have in a town in Galicia for a very important meeting. We were able to make the trip in the same day saving time and costs considerably and the service was excellent. No doubt, we'll do it again. "
"We were celebrating our golden jubilee and we wanted to do a mini relax route with a visit to a restaurant on the Costa Brava where we met. Mach helicopters suggested options of spas with charm and we spent some unforgettable days in Cap Rocat and Hotel Na Xamena. Thank you for everything and above all for the exquisite treatment! "
"I was planning to go on holiday to Barcelona with my girlfriend and decided to propose to her doing something original. Both of us like skydiving. We landed in a wonderful spot and asked her the big question! Mach helicopters designed this unique experience to be just perfect!"
"My son Jorge and I are Formula 1 fans. The Formula 1 Montmeló Grand Prix was held at the Montmeló circuit and we contracted a flight from the heliport of the Port of Barcelona to the circuit. We saved all the traffic jams, and apart from enjoying a beautiful landscape we could see the whole atmosphere of the circuit from the air. Unbelievable!"
"We wanted to spend a different afternoon among friends and we hired a tour of Barcelona among five people. None of us had ever been on a helicopter before, and it gave us respect. The crew was very friendly and professional, I have no words with such spectacular views, and the price was super affordable. "

Excellent Covid-free measures in place Very pleased to see strong health and safety measures in place to guarantee single use of the headset for each passenger. Helicopter cabin was cleaned with an ozone machine before the trip.

Best birthday of my life! I wanted to do something special as a family in the Balearic Islands for my 40th birthday celebration. I contacted Mach Helicopters who advised me and helped with the preparations. We did a couple of scenic tours around Ibiza and Formentera and landed at the Atzaró hotel in Ibiza where we were staying. It was one of the best weekends of my life
was a very interesting experience. I never thought it would be such a good experience to see Barcelona from the air is to recommend it.

Wonderful!!!!! Simply wonderful. Kindness, views... the helicopter ride is worth it. It's a short trip.

Personalized gift We wanted to give my father-in-law a personalized helicopter flight without him knowing where he was going. We talked to this company and understood each other right away. They gave us all the facilities to be able to set up the transfer we wanted. The pilot kept "the secret" at all times, a key point for the surprise. In short, the experience was perfect, the surprise was great and we were very happy and very satisfied with their work. They showed a lot of dedication and professionalism at all times. A very recommendable service.

Went to a restaurant by helicopter! Priceless! We had really a lot of fun! We took helicopter for going to El Cau Faluga restaurant flying over Montmelo F1 Circuit, some cars were actually rolling quite fast! Then afterwards to Sant Miquel del fai with its impressive waterfall. Restaurant was superb, in a well renovated old mansion in front of a fireplace. Pilot was very nice and took us down to the departing heliport while sun was setting down as we were running a little bit late after our Spanish-time lunch hehe Definatelly repeating if I come back in Barcelona, they offered us a hotel pick-up from Barcelona hotel. Very nice people.

Movie Gift Super professional, the process of hiring him was very easy and very attentive throughout the development. The day of the great flight, the very nice pilot and the lovely restaurant. I love to make things better but in this case I can't be 100% perfect.

A flight to remember It's the first time we've done a tour of this kind and we'll repeat it. Information, safety and fun: I'll take all three! I agree with those who say that the best thing is the coast area. It is an incredible feeling and we highly recommend it.

Unforgettable experience It was an unforgettable experience. The facilities are very good. The access is unbeatable. And the treatment of the staff, exceptional. If you have any doubts, I would recommend it to everyone!

What a great experience! We did not expect such an amazing experience! Pilot welcomed us at the heliport and gave us an explanation about how an helicopter flies. Right afterwards we recieved the safety instructions and we got onboard. We took off from the heliport and we could see the F1 Circuit of Montmeló! Then we flew towards the coast, that was the best part of the trip! I reccomend it, it is very safe and you feel like time stops! Parking was free which is good, but it was a little hard to find the heliport...
Tell us about your experience