Your Helicopter in Marbella
A VIP helicopter transfer to Marbella allows you to travel to the Costa del Sol in a private flight. 
In Mach Helicopters we offer you a private flight service to Marbella, whether you want to enjoy your vacations in the town of Malaga, as if you need to make a professional flight. 
Our VIP transfers to Marbella not only give you the possibility to reach different points of the municipality by helicopter, but you can also choose flights from Marbella to destinations in the Iberian Peninsula. 
Marbella is a municipality of reference on the Costa del Sol. 
It is one of the most luxurious areas of Spain, has a wide range of leisure activities and many companies have their headquarters in Marbella or nearby. 
In Mach Helicopters we offer you a VIP flight service to Marbella, so you can have a fast transfer, door to door and guaranteeing maximum discretion.
With our helicopter flights to Marbella you can decide the details of your trip, from departure times to the landing zone. Our team is in charge of planning the trip in detail, to provide you with a unique experience, in a fully equipped helicopter.     
We design helicopter flights according to your needs and are available 24/7.
Private flight in Marbella
The VIP transfer service to Marbella of Mach Helicopters is available both for trips from Marbella, as well as for flights that have the Malaga municipality as destination. 
This area of Malaga receives thousands of tourists a year, as well as people who visit the area for professional purposes, in Mach Helicopters we organize helicopter flights in Marbella with customized routes, in which we can even make one or several stopovers. 
There are several helipads in Marbella where you can land or take off.
Our professional competence allows us to ensure you the best experience during the flight, being able to choose the take-off or landing place closest to your location. 
If you need a transfer from an airport to get to Marbella, we take care of managing the request and the necessary administrative procedures, to put at your disposal a helicopter at the foot of the runway, with which you can get to Marbella immediately. 
Private helicopter flights to Marbella allow you to enjoy a getaway whenever you want.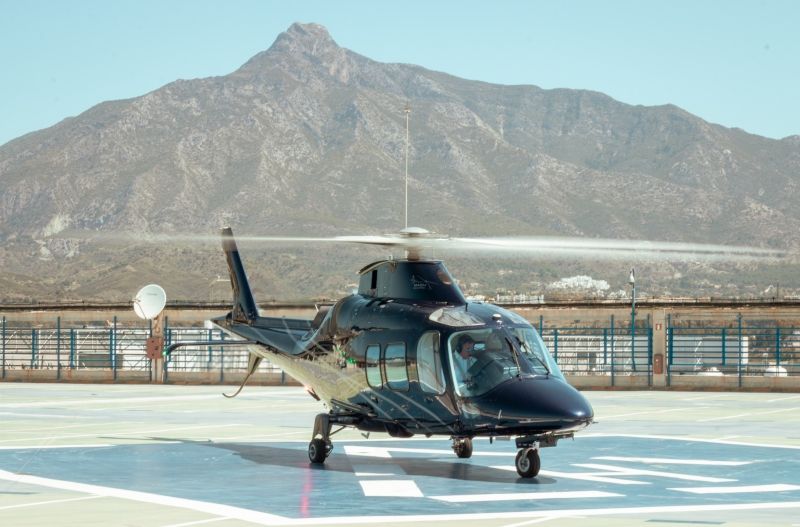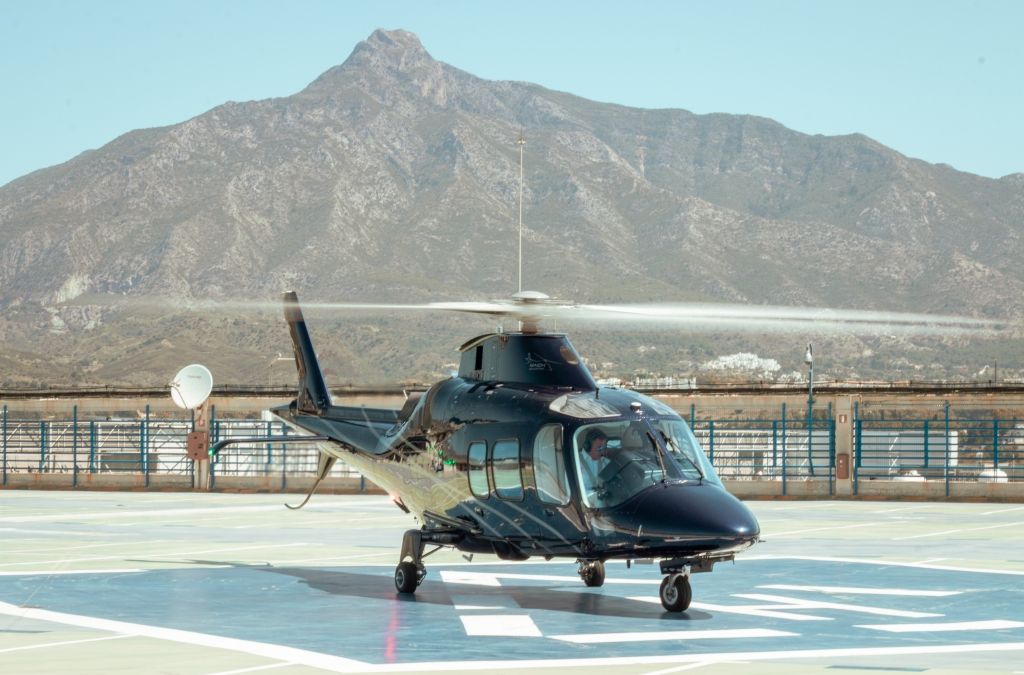 We arrive at the place where you are, we make the flight and we transfer you back on the same day if you need it.
Our helicopters are prepared to offer you an exclusive helicopter trip to Marbella with no waiting, no delays and no formalities, with the possibility of embarking luggage, as long as it does not exceed the maximum authorized weight.     
How is our VIP transfer?
VIP transfers to Marbella offer the possibility to organize tailor-made flights. 
Unlike commercial aviation, with Mach Helicopters you are the one who decides the details of the flight, the schedules and the landing and take-off zones. 
Getting to Marbella by road can be a complex process, depending on where you start your journey from.
The municipality of Malaga is located in one of the southern extremes of the Iberian Peninsula, therefore, road trips are usually long. 
By means of a private helicopter flight you can reach Marbella, or other towns along the coast of Malaga, in less time and with the guarantee of enjoying an excellent and safe flight. 
Upon receipt of your request, our team begins scheduling the trip to define the course and identify landing and take-off points close to your location. 
Each of the private flights that we carry out in Marbella has particular conditions, so it is important to define the details of the trip correctly, based on the needs of the passengers. 
With Mach Helicopters you have an extraordinary service, the best fleet of private helicopters in Marbella and the confidence of a team specialized in private flights in towns on the Costa del Sol.      
Your personalized helicopter flight to Marbella
These are the most frequent charter destinations we do. We also work with other destinations according to your needs.
At Mach Helicopters we offer you the best helicopter charter service in Marbella. 
We assure you the greatest flexibility in all your displacements, in addition, with our flights to Marbella by helicopter you will be able to avoid the waits that the commercial aviation entails, as well as the times that imply the displacements by road. 
If you also need to transport materials or luggage immediately, either to Marbella or from the town of Malaga, we will take care of scheduling a flight quickly.
Our team can organize an express helicopter flight, so that you can solve any urgent displacement. 
Ibiza, Mallorca, Madrid, Seville, Valencia or Alicante are just some of the cities from which we operate VIP helicopter flights to Marbella. 
If you want to travel to another city, or need to reach Marbella from a point of the Iberian Peninsula or Balearic Islands, contact Mach Helicopters team and get the best VIP flight service.
| Destination | Flight time |
| --- | --- |
| | – |
| | 00:25h |
| | 00:40h |
| | 01:20h |
| | 01:45h |
| | 01:25h |
| | 02:00h |
| | 00:50h |
| | 01:00h |
| | 02:50h |
| Destination | Flight time |
| --- | --- |
| | 01:25h |
| | 01:45h |
| | 01:00h |
| | 01:25h |
| | 00:30h |
| | – |
| | 02:00h |
| | 01:30h |
| | 02:00h |
| | 04:00h (1 stop) |
| Destination | Flight time |
| --- | --- |
| | 02:50h |
| | 02:50h |
| | 03:30 (1 stop) |
| | 04:10 (1 stop) |
| | 04:30h (1 stop) |
| | 04:00h (1 stop) |
| | 02:00h |
| | 02:30h |
| | 02:00h |
| | – |
| Destination | Flight time |
| --- | --- |
| | 02:10h |
| | 02:15h |
| | 02:40h |
| | 03:10h (1 stop) |
| | 02:45h |
| | 02:30h |
| | – |
| | 01:25h |
| | 01:40h |
| | 01:55h |
| Destination | Flight time |
| --- | --- |
| | 02:00h |
| | 02:10h |
| | 02:35h |
| | 03:10h (1 stop) |
| | 03:15h (1 stop) |
| | 02:55h (1 stop) |
| | 01:35h |
| | 01:30h |
| | 01:15h |
| | 00:45h |
| Destination | Flight time |
| --- | --- |
| | 00:40h |
| | 00:40h |
| | – |
| | 00:35h |
| | 01:00h |
| | 00:50h |
| | 02:45h |
| | 01:25h |
| | 01:35h |
| | 03:40h (1 stop) |
| Destination | Flight time |
| --- | --- |
| | 00:47h |
| | 00:50h |
| | 01:15h |
| | 01:50h |
| | 01:45h |
| | 01:30h |
| | 01:25h |
| | – |
| | 00:40h |
| | 02:20 |
Contact us for more information