Private Transfers
Mach Helicopters offers you charter flights by helicopter for transfers private in any part of Spain and southern Europe as needed, both for public use and for the use of theersonal as well as business.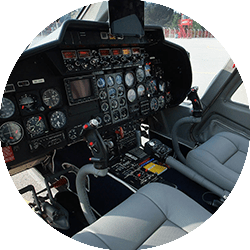 Private business transfer
Our private transfer services or private helicopter flight services include helicopter flights for executive transfers to business meetings or conferences. The benefits of using the helicopter as a means of transportation in the corporate environment are obvious:
-· We optimise your schedule so that you get the maximum performance out of your working day.
-· You avoid the stress and time lost in traffic jams, waits or delays in other means of transport.
-· Possibility of "door to door" transfer without having to take additional means of transport.
- · Flexibility of access to more remote or difficult to reach areas, with the possibility of landing on heliports, hotels and even private properties.
- · Fast procedures, no check-in, long queues at airports or eternal waiting times.
- · Solution flexible to specific problems in the logistics chain through the urgent transport of goods, components, critical material, etc.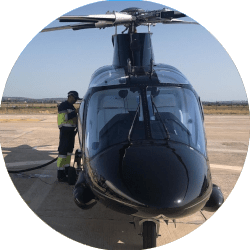 Private leisure transfer
Our private transfer or private helicopter flight services include a wide variety of options to enjoy a pleasure trip in a unique way.
We offer you transfers from/to airports for connecting flights, helicopter flights to a specific hotel, exclusive gastronomic tours, private transfers to social or sporting events, organization of pleasure trips, family or romantic getaways, private passenger transfers to yacht or boat heliports, transfers to ski resorts and many more. private transfers of passengers to heliports of yachts or boats, transfers to ski resorts and a long etcetera.
In short, we take you to the destination you want in an elegant, comfortable and exclusive way.
The versatility of helicopters allows this means of transport to be used on a multitude of occasions. For more information see the section on Panoramic Tours, Wine tourism, Gastronomic Routes or Special Outings.
Other private helicopter flights
In addition, we can organize a helicopter trip as a special gift for a family member, friend or to surprise your partner. Our team will organize all the necessary details to make the experience unforgettable.
Our helicopters have excellent comfort in the executive cabin with a capacity of up to six passengers with a separate hand luggage area.
We offer a land transfer service in a luxury vehicle with a professional driver to the landing or take-off points.
These are the most frequent charter destinations we do. We also work with other destinations according to your needs.
Destination
Flight time
–
00:25h
00:40h
01:20h
01:45h
01:25h
02:00h
00:40h
00:50h
01:00h
02:50h
La Coruña
–
Santiago
of Compostela
–
Destination
Flight time
01:25h
01:45h
01:00h
01:25h
00:30h
–
02:00h
01:00h
01:30h
02:00h
04:00h (1 stop)
La Coruña
–
Santiago
of Compostela
–
Destination
Flight time
02:50h
02:50h
03:30 (1 stop)
04:10 (1 stop)
04:30h (1 stop)
04:00h (1 stop)
02:00h
03:00h
02:30h
02:00h
–
La Coruña
–
Santiago
of Compostela
–
Destination
Flight time
02:00h
02:40h
02:30h
03:00h
02:40h
02:00h
–
01:30h
01:30h
01:45h
02:00h
La Coruña
02:15h
Santiago
of Compostela
02:00h