National and European flights by helicopter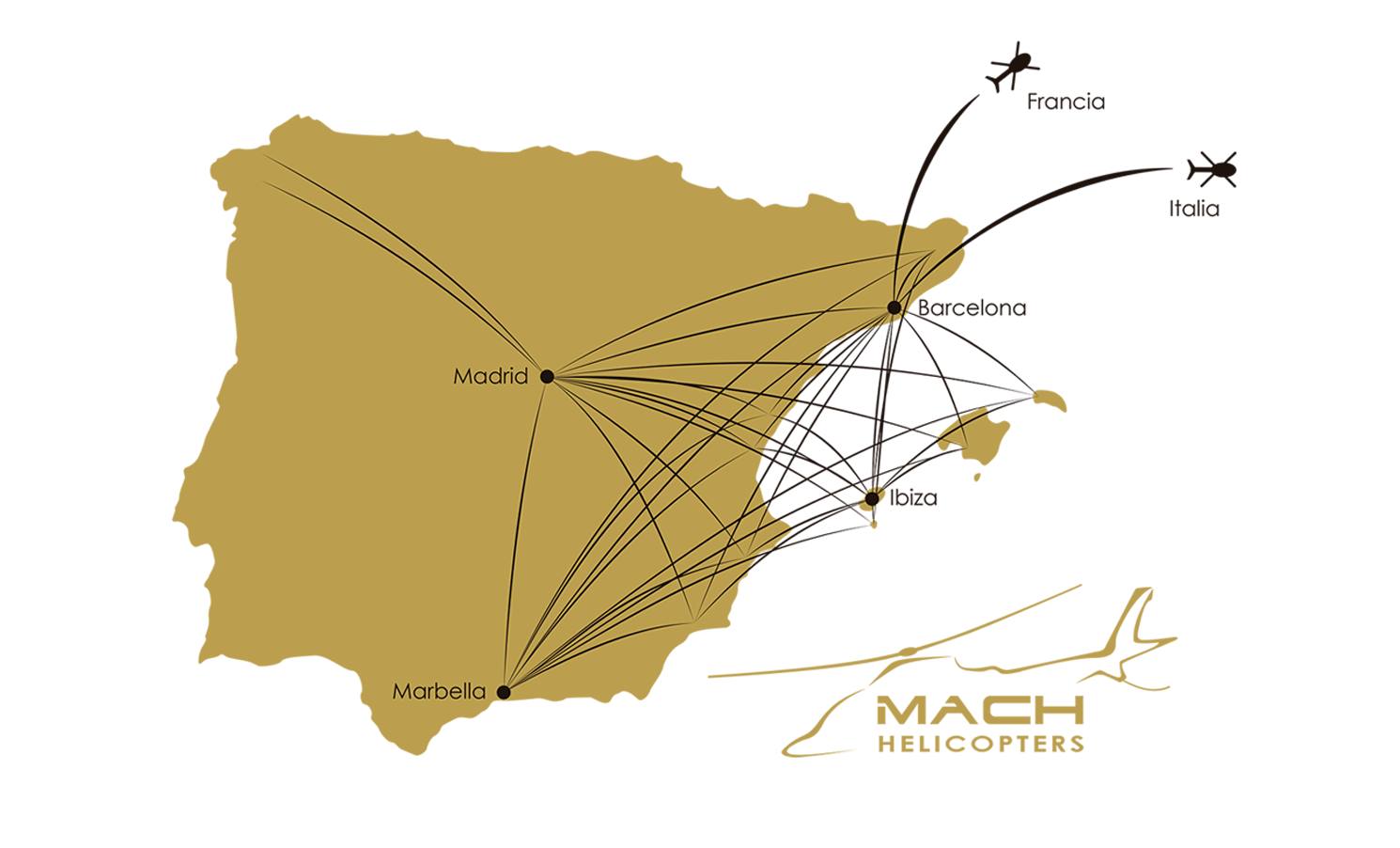 Ask for a budget
These are the most frequent destinations that we usually perform. We also work other destinations according to your needs.
Business charter
Our services include, executive transfers to and from work meetings, conferences, etc. The benefits of using Mach Helicopters as a means of transportation:
We optimize your agenda so that you get the most out of your working day.
Avoid stress and time lost in traffic jams or other delays in other means of transport.
Possibility of "door to door" transfer without the need to take additional means of transport.
Agility in procedures, no check in, long queues at airports or eternal waiting times.
Our helicopters feature excellent cabin comfort with a capacity of up to six passengers with a separate carry-on baggage area.
We offer a ground transportation service in a luxury vehicle with a professional driver to the heliports.
"Your schedule, your route, your time". Book your flight with us today!
Pleasure charter
Our services include transfers to a particular hotel, social events, leisure trips or family, possibility of transferring passengers to yachts heliports, or take you to your destination in an elegant and exclusive way.
For more information, see the Panoramic Tours, Special Departures and Memorable Occasions section.
Destino
Flight Time
–
00:25h
00:40h
01:20h
01:45h
01:25h
02:00h
00:40h
00:50h
01:00h
02:50h
La Coruña
–
Santiago
de Compostela
–
Destino
Flight Time
01:25h
01:45h
01:00h
01:25h
00:30h
–
02:00h
01:00h
01:30h
02:00h
04:00h (1 stop)
La Coruña
–
Santiago
de Compostela
–
Destino
Flight Time
02:50h
02:50h
03:30 (1 stop)
04:10 (1 stop)
04:30h (1 stop)
04:00h (1 stop)
02:00h
03:00h
02:30h
02:00h
–
La Coruña
–
Santiago
de Compostela
–
Destino
Flight Time
02:00h
02:40h
02:30h
03:00h
02:40h
02:00h
–
01:30h
01:30h
01:45h
02:00h
La Coruña
02:15h
Santiago
de Compostela
02:00h